Dependable, Easy-to-use Guidance
With its bright 5.0" display, spoken turn-by-turn directions and many innovative features, the sleek nüvi 52LM offers dependable, easy to use driving guidance.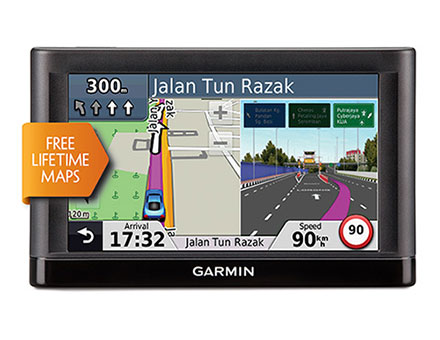 Detailed Maps with Free Lifetime Updates
Maps of Singapore/ Malaysia, plus free lifetime¹ map updates, let you easily find addresses and great numbers of points of interest.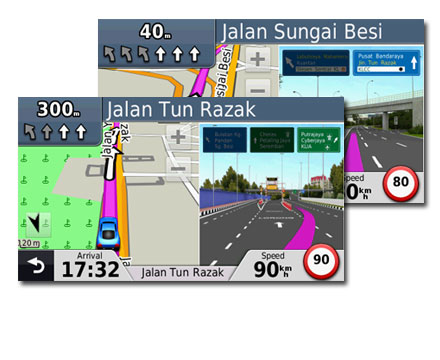 Innovative Features
Lane assist with junction view indicates the proper lane for a turn or exit with brightly colored arrows and detailed pictures. nüvi 52LM also displays speed limit and accurate arrival time.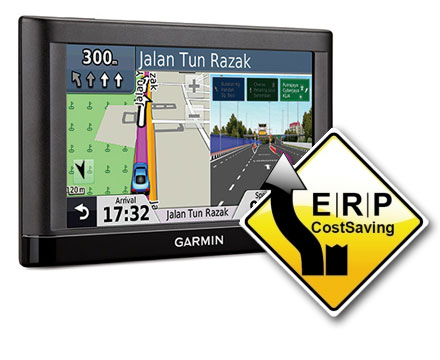 ERP Cost Saving
With the ERP cost saving helper, your nüvi will take ERP charges into routing consideration and plan more economic route for you. (Singapore ONLY)
Physical & Performance

Unit dimensions, WxHxD:
5.5"W x 3.4"H x 0.8"D (13.9 x 8.6 x 2.0 cm)
Display size, WxH:
4.4"W x 2.5"H (11.1 x 6.3 cm); 5.0" diag (12.7 cm)
Display resolution, WxH:
480 x 272 pixels
Display type:
WQVGA color TFT with white backlight
Weight:
180.1 g
Battery:
rechargeable lithium-ion
Battery life:
up to 2 hours
Headphone jack/audio line-out:
no
High-sensitivity receiver:
yes
Waterproof:
no
Maps and Memory

Preloaded street maps:
yes
Includes lifetime map updates:
yes
nüMaps Guarantee:
yes
3-D terrain view:
no
3-D buildings and landmarks view:
no
Built-in memory:
4G NAND flash
Accepts data cards:
microSD™ card (not included)
Waypoints/favorites/locations:
1000
Routes:
0
Features and Benefits

Drive stress-free. Save time and money.
Voice prompts (e.g. "Turn right in 500 ft."):
yes (internal speaker)
Speaks street names (e.g. "Turn right ON ELM STREET in 500 ft."):
yes (English only)
Voice-activated navigation (operate device with spoken commands):
no
Traffic compatible (routes around traffic with a receiver and subscription):
no
Lane assist (guides to proper lane for navigation):
yes
Junction view (displays junction signs):
yes
myTrends™ (predicts your routes):
no
ecoRoute™ (calculates a more fuel-efficient route):
no
Auto sort multiple destinations (provides most direct route):
no
Route avoidance (avoid highways, tolls etc.):
yes


Navigate safely and easily.
Bluetooth® wireless technology:
no
Speed limit indicator (displays speed limit for most major roads):
yes
Where Am I? (find closest hospitals, police & gas stations, nearest address & intersection):
yes
Enhanced pedestrian navigation (guides you as you walk around town):
no
Photo navigation (navigate to geotagged photos):
no
Exit services (tells you approaching services on highway):
no
Custom POIs (ability to add additional points of interest):
yes
Garmin Lock™ (anti-theft feature):
no
Enjoy the drive and customize.
Garmin Garage™ vehicles compatible (download car-shaped icons to your device):
yes
Garmin Garage™ voices compatible (download custom voices to your device):
yes
MP3 player:
no
Audio book player:
no
New User Interface

The new UI redefines the user interface and search engine of navigation system.

Junction View

No more guessing which lane you need to be in to make an upcoming turn. Real view junction view guides you to the correct lane for an approaching turn or exit, making unfamiliar intersections and exits easy to navigate. It realistically displays road sign.

Lane Info

Land info guides you to the proper lane for approaching turns or exits. You can know the correct lane before making an upcoming turn.

Highway Mode

The feature helps driver know current location and shows exits from near to far. It will also display highway mileage information. You won't miss any exits.