Features:

Green Battery/Intelligent Battery Chipset
Utilize lithium polymer battery endures an amazing 500 charging
cycles without causing significant battery degradation.
Retains 90% of battery capacity even it is not being used for a
year, achieved thru the use of better battery management and
quality battery to minimise self-discharge.

World Class Safety and Protection
Intelligent IC prevent over-charging/self-discharge Over charging shorten battery lifespan significantly and increase the risk of battery explosion. Charging automatically stop when battery is fully charged

.
Over temperature/current/short circuit Protection
Auto powers off to protect the battery and target charging device's
delicate circuitry.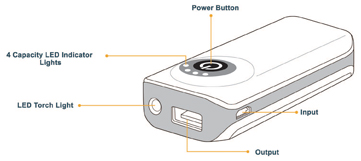 Specifications

input/output:DC 5V

re-charging time: 2-3hours

dimension (LxWxH): (94x44x20)mm

net weight:160g

operating temperature:-10℃〜50℃